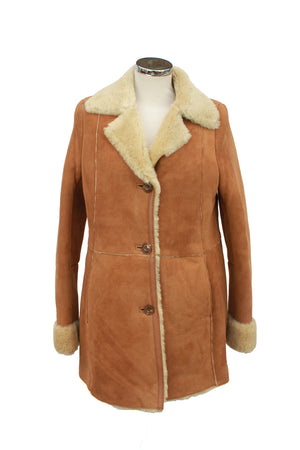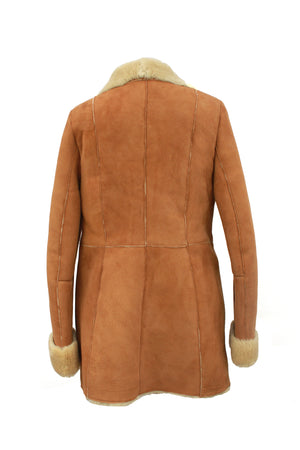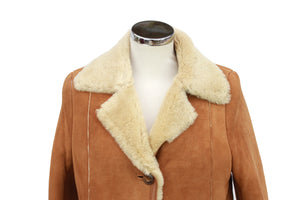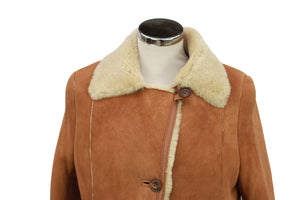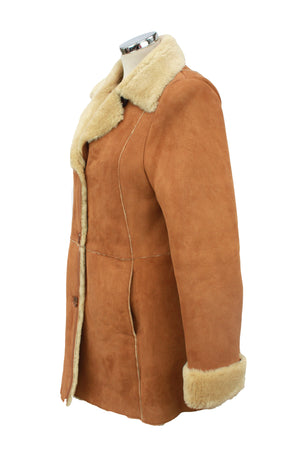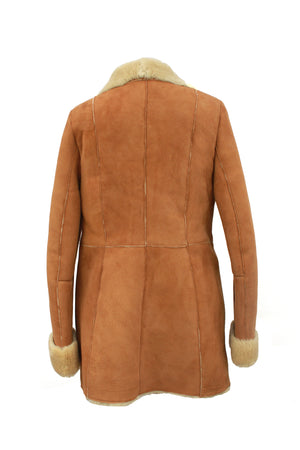 LUCCI LEATHERWEAR
Women's Button Fastening Suede Leather Sheepskin Jacket in Tan
Ladies Suede Sheepskin Jacket in Tan with Button Fastening.
Ladies coat with double faced sheepskin
Tan - Suede

 

leather in tan with a warm creamy

 

like sheepskin colour wool
Genuine Suede Outer and Sheepskin Lining
3 button
Leather & Sheepskin
Classic style
Real Toggle Horn Fastening with two pockets
Regular fit
Available in sizes:

8 (XS), 10 (S), 12 (M), 14 (L), 16 (XL), 18 (2XL), 20 (3XL) & 22 (4XL)
Available colours:
Tan - Suede leather in tan with a warm creamy like sheepskin colour wool
Vizon Grey - Suede leather in brown with grey undertone with a grey sheepskin colour wool
Please note: Actual item colour/finish may slightly differ from image due to its natural characteristic.
Special Order item - Please allow up to 5 extra working days for this item to be delivered.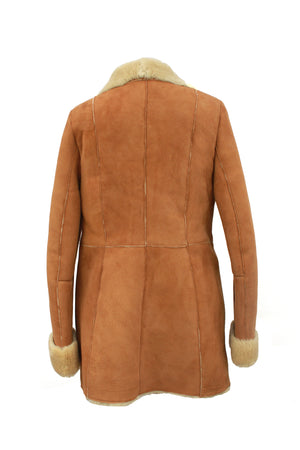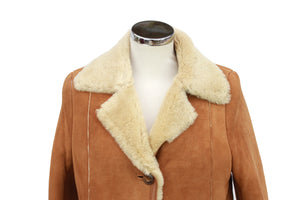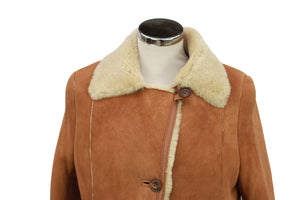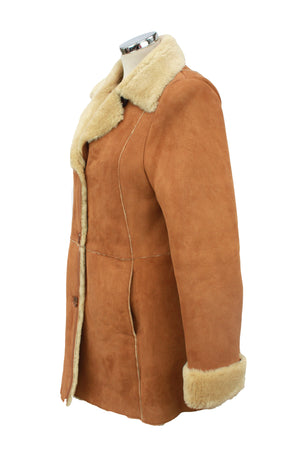 Men's Jacket Size Guide:
| | | | | | | | | | | |
| --- | --- | --- | --- | --- | --- | --- | --- | --- | --- | --- |
| Extra Slim Fit | XS | S | M | L | XL | 2XL | 3XL | 4XL | 5XL | 6XL |
| Fit Chest (inches) | 32-34 | 34-36 | 36-38 | 38-40 | 40-42 | 42-44 | 44-46 | 46-48 | 48-50 | 50-52 |
| Fit Chest (cm) | 82-87 | 87-92 | 92-97 | 97-102 | 102-107 | 107-112 | 112-117 | 117-122 | 122-127 | 127-132 |
| | | | | | | | | | | |
| --- | --- | --- | --- | --- | --- | --- | --- | --- | --- | --- |
| Slim Fit | XS | S | M | L | XL | 2XL | 3XL | 4XL | 5XL | 6XL |
| Fit Chest (inches) | 34-36 | 36-38 | 38-40 | 40-42 | 42-44 | 44-46 | 46-48 | 48-50 | 50-52 | 52-54 |
| Fit Chest (cm) | 87-92 | 92-97 | 97-102 | 102-107 | 107-112 | 112-117 | 117-122 | 122-127 | 127-132 | 132-137 |
| | | | | | | | | | | |
| --- | --- | --- | --- | --- | --- | --- | --- | --- | --- | --- |
| Regular Fit | XS | S | M | L | XL | 2XL | 3XL | 4XL | 5XL | 6XL |
| Fit Chest (inches) | 36-38 | 38-40 | 40-42 | 42-44 | 44-46 | 46-48 | 48-50 | 50-52 | 52-54 | 54-56 |
| Fit Chest (cm) | 92-97 | 97-102 | 102-107 | 107-112 | 112-117 | 117-122 | 122-127 | 127-132 | 132-137 | 137-142 |
| | | | | | | | | | | |
| --- | --- | --- | --- | --- | --- | --- | --- | --- | --- | --- |
| Loose Fit | XS | S | M | L | XL | 2XL | 3XL | 4XL | 5XL | 6XL |
| Fit Chest (inches) | 38-40 | 40-42 | 42-44 | 44-46 | 46-48 | 48-50 | 50-52 | 52-54 | 54-56 | 56-58 |
| Fit Chest (cm) | 97-102 | 102-107 | 107-112 | 112-117 | 117-122 | 122-127 | 127-132 | 132-137 | 137-142 | 142-147 |
Women's Jacket Size Guide:
| | | | | | | | | | | |
| --- | --- | --- | --- | --- | --- | --- | --- | --- | --- | --- |
| Extra Slim Fit | XS | S | M | L | XL | 2XL | 3XL | 4XL | 5XL | 6XL |
| Fit Chest (inches) | 27-29 | 29-31 | 31-33 | 33-35 | 35-37 | 37-39 | 39-41 | 41-43 | 43-45 | 45-47 |
| Fit Chest (cm) | 69-74 | 74-79 | 79-84 | 84-89 | 89-94 | 94-99 | 99-104 | 104-109 | 109-114 | 114-119 |
| | | | | | | | | | | |
| --- | --- | --- | --- | --- | --- | --- | --- | --- | --- | --- |
| Slim Fit | XS | S | M | L | XL | 2XL | 3XL | 4XL | 5XL | 6XL |
| Fit Chest (inches) | 29-31 | 31-33 | 33-35 | 35-37 | 37-39 | 39-41 | 41-43 | 43-45 | 45-47 | 47-49 |
| Fit Chest (cm) | 74-79 | 79-84 | 84-89 | 89-94 | 94-99 | 99-104 | 104-109 | 109-114 | 114-119 | 119-124 |
| | | | | | | | | | | |
| --- | --- | --- | --- | --- | --- | --- | --- | --- | --- | --- |
| Regular Fit | XS | S | M | L | XL | 2XL | 3XL | 4XL | 5XL | 6XL |
| Fit Chest (inches) | 31-33 | 33-35 | 35-37 | 37-39 | 39-41 | 41-43 | 43-45 | 45-47 | 47-49 | 49-51 |
| Fit Chest (cm) | 79-84 | 84-89 | 89-94 | 94-99 | 99-104 | 104-109 | 109-114 | 114-119 | 119-124 | 124-129 |
| | | | | | | | | | | |
| --- | --- | --- | --- | --- | --- | --- | --- | --- | --- | --- |
| Loose Fit | XS | S | M | L | XL | 2XL | 3XL | 4XL | 5XL | 6XL |
| Fit Chest (inches) | 38-40 | 40-42 | 42-44 | 44-46 | 46-48 | 48-50 | 50-52 | 52-54 | 54-56 | 56-58 |
| Fit Chest (cm) | 97-102 | 102-107 | 107-112 | 112-117 | 117-122 | 122-127 | 127-132 | 132-137 | 137-142 | 142-147 |